Tokyo is an exciting, futuristic & very memorable city to visit. Having lived in Japan for 2 years and visiting Tokyo many times throughout the years, I have a few recommendations for worried travelers who want to maximize their trip. Don't worry about the anxiety or panic of not being able to experience Tokyo, you can do the essentials in about 3 days if you are efficient and up for it. If you have watched Bladerunner or Lost In Translation, you have an idea of what to expect. Now Bladerunner is a futuristic film, but a lot of the film was inspired by the buzzing bright lights, signage and feel of the crazy city. If you really experience Tokyo in its fullest, you will have crazy stories that surpass a big night on the town in New York or San Francisco, trust me!
Day 1: 
Morning/Afternoon
I recommend taking a Hato Bus Tour. Hato Bus Tours take you to the heavy hitter locations in Tokyo. Some of my most memorable moments were captured at a young age by taking this tour. I remember going to a super classy hotel where for lunch time, we barbecued at a famous Teppanyaki and I distinctively remember chowing down on barbecue corn with teriyaki sauce brushed onto it. I still have very fond moments of going on various tours when I was young. The tours usually depart from the Ikebukuro Station and proudly parade to the Imperial Palace Gardens, Asakusa Temple, a Tea Ceremony, The Tokyo Metropolitan Government Tower Building, The Tokyo Tower, with a drive through Shinjuku and Shibuya, and a famous park in Tokyo somewhere. You can decide whether you want a day or night tour. If you are worried about the language barrier, then I highly recommend the English tour for the full day. They will whisk you around in the bus, tell you about the history and give you interesting facts. Your tour guide will 99% be a woman who is wearing a perfectly fit dress suit with a matching hat and white gloves. You'll feel like the stereotypical tourist when they hold up the tour flag and wave you to walk in her direction. Just chuckle and go along. What I would do on the tour is to have a notebook in hand and write down the areas that you find interesting to go back and visit on your own time. Of course tours suck in the sense that you are on limited time, but in Tokyo the Hato Bus Tour will maximize your time efficiently. On your own, its easy to not know how long the train lines or subways take to get somewhere, then if you get lost, that can waste time as well. For example, the Yamanote Sen (the most traveled line in Tokyo) runs in a complete circle. Although trains for the Yamanote Sen run every 3 minutes, it take a good 45 minutes to completely take the full circle.
Source: www.solarbird.net
Evening:
I would rest up a bit at the hotel or go to a local kissaten (coffee shop). There are many fantastic coffee shops in Tokyo. If you want a cocktail, you have that choice on almost every corner. Just stay away from Kabukicho for drinks. This is where the Japanese mafia (Yakuza) own a lot of the bars. In front of some of the bars, there will be a disclaimer (tiny) in Japanese that says something along the line of a service charge. Some tourists have been conned into paying ridiculous amounts for one drink (10,000 yen for the service charge). I think you get the drift! So stay away from the bars in Kabukicho in Shinjuku. Walk around Shinjuku or Shibuya. There are people walking around everywhere and Tokyo is pretty safe. I have never had an incident, but then again I speak the language and I am pretty street smart. Just act like you know where you are going and what you are doing and you should be just fine. Karaoke Boxes are relatively cheap and super fun. You can rest in there, order drinks from a T.V. remote, sing your heart out to your content and even order food snacks like karaage (fried chicken pieces), gyoza (potsticker dumplings), french fries, teriyaki sticks, and sometimes sushi. Some great and reliable places to sing your heart out are the following: Smash Hits, Shidax Please. They charge by the hour, per person. You usually check in your shoes in a shoe locker and then they show you to your very own karaoke room. Some karaoke rooms have disco balls, maracas and costumes. We've even had a two story room where we had a railing to sing to our friends below!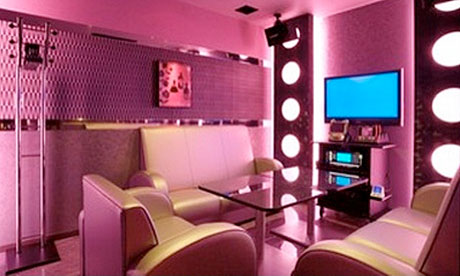 Source: http://static.guim.co.uk/
If Karaoke is not your thing and you actually rested up, then go check out some of the small authentic eateries that mimic old time Edo. Shomben Yokocho (piss alley) is a great place to go and check out. It's a small street that doesn't have bathrooms, hence the name. This street is also special in the sense that it wasn't affected by the Tokyo Fire Raids of WWII. You can pretend, just for a few minutes or hours that you are walking into Shomben Yokocho on a hot summer night back in the day. You hear the melodious chimes of the furin tantalizing you and others to come and sit down at a bar that serves some exotic piece of food. A man wears a hachimaki and is busily preparing a special food item for his prized customers. Every move and every thought of this food that he is preparing is 100% focused on making the customer happy and to create a memorable and nostalgic moment. The sound of sizzling fat drips on the grill and someone sitting close by is quickly popping in a hot piping piece of meat into their mouth and fanning their mouths like a Geisha entertaining her guests. Cold crisp sake coasts down your throat and a simple nod from another justifies that amakuchi (sweet) taste that pairs so well with one's meal. In the alleys that share each kiosk, the clicking and clacking of women's heels accompanied with cigarette smoke and intimate conversations with drunken men can be heard. If you listen closer you can hear the proud slurpers of cold soba. At this point the man who is serving you might have beads of sweat dripping down his face. He will nonchalantly grab a wet oshibori and wipe his hard earned sweat and lay it back down. These details can be witnessed when going to Shomben Yokocho. 
Source: http://fc02.deviantart.net/
Day 2: 
Get up early! Go and get ready to check out the famous Tsukiji Fish Market! This is probably, if not, the most famous fish market in the world! Make sure you check out their main website for touring. There are strict rules and I went there one time on a Sunday to find out that it was CLOSED! Here is some useful information taken from the Japan Guide website:
Visiting the tuna auction
The number of visitors to the tuna auction is limited to 120 per day, the maximum number which the market's infrastructure can accommodate. Tourists, who wish to see the auction, have to apply at the Osakana Fukyu Center (Fish Information Center) at the Kachidoki Gate, starting from 5:00am on a first-come, first-serve basis. A first group of 60 visitors will be admitted to the auction between 5:25 and 5:50, while a second group of 60 visitors will be admitted between 5:50 and 6:15.
Expect that the maximum number of visitors is likely to be exceeded on busy days, and that some later arriving visitors may not be able to see the auction. Successful applicants will be able to view the auction from a designated visitor area. It is not allowed to view the auction from anywhere else or to use flash photography or to interfere with the business action in any other way.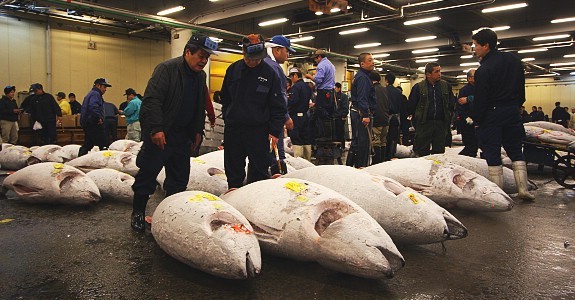 Source:  http://www.japan-guide.com/e/e3021.html
Be adventurous and try some sashimi. It may cost you a bit, but it is worth the experience. These tuna are hard to come by now and the prices at auction are CRAZY RIDICULOUS!
Post Fish Market/Afternoon: 
After you have your fish fix, you are close to Ryogoku, Kappabashi, and the Tokyo Edo Museum. Since you are up early, you might as well hop on the train and go see if you can catch an early morning thrown down at the Sumo Beya (Sumo Stable). You usually have to set this up in advance and definitely be on time and be VERY RESPECTFUL. Keep in mind that Sumo is the ultimate Japanese traditional sport. It is sacred and some sumo beya's will not allow for foreigners to come in, others allow it. Remember that you are an ambassador for your country. BE RESPECTFUL!!!!!!!  Ryogoku is the home of Sumo. If you want to watch Sumo, you'll have to check the schedule to see when games are taking place. If you want to watch an actual match, check out the Nihon Sumo Kyokai. Hopefully you got a chance to see some sumo throws in action. Kappabashi is known for kitchen supplies and "fake food". The Japanese are gourmet eaters and many Japanese judge a restaurant by how their displays of "fake foods" are presented. If I see dust on "fake food" displays, I don't go in! I've been told this by many Japanese friends. The art of making "fake foods" in Kappabashi  is taken very seriously and there is a lot of study to make plastic look SUPER REAL! No laughing matter. Even the "fake food" magnets, cost a lot more money than your average souvenir in Asakusa.  
The Tokyo Edo Museum is your history lesson for the Golden Age of Japanese History, the Edo Jidai. You will get your fix of Japanese woodprints, kimonos, kabuki, calligraphy art and architecture. You'll of course hear about the famous historical times of Japan including the Heian Dynasty, Muromachi, Kamakura, Tokugawa and modern Japan after Commodore Perry. 600 yen is super reasonable and well worth the price! I would ask for a docent, they know everything about the museum! They are closed on Mondays. Their hours are from 9:30 A.M. to 5:30 P.M. TAKE A BREAK!
Here is where I recommend walking around the college parts of Tokyo like Waseida University, Tokyo University. You'll get a chance to see your typical college students dressed in their trendy Tokyo fashion. Of course better fashion spotting & poshing would be around Harajuku, Omotesando, Daikanyama and Shibuya. Your stop would be Chiyoda on the train line. If college towns don't interest you, then possibly go towards Tokyo Station and go check out some shopping in the Tokyo Marunouchi Building and the Shin Marunouchi Building. You'll be walking distance to the Imperial Palace. I also recommend Namco Town in Ikebukuro for some silly arcade fun! Namco town has a gyoza museum and an ice cream museum. There are tons of crazy and fun games to play. Can't explain it, you'll have to see it for yourself.
The other option is to go and check out Roppongi Hills, although you probably won't be able to afford much! The stores are loaded with Louis Vuitton, Armani, Coach, Ralph Lauren, Chanel etc. You can buy those brands in the USA much cheaper. However if you desire to go to Roppongi, it is your chance to get a lot of foreign food. This is where a lot of ex pats live. The U.S. Embassy is close by. Go check out Mori Art Museum at the top of Roppongi Hills. The view is stunning at the top and this museum is one of the most famous avantgarde museums for modern art in the world! I've been to the Tate in London, which is amazing, but the Mori Art Museum is a definite competitor! Bring your student ID, or professional ID, you may get a discount.
Day 3: 
This day all depends on how much you have done and how you want to spend your day, high impact or low impact. You can go have a drink at the top of the Park Hyatt and spend a good $30. Or you can just let your stomach and senses turn into your personal garmin. I recommend having a day where you just wander and kind of "get lost". Rather than explaining things like I have, here are the places that I would recommend in list form with a few quick blurbs.
Takeshita Dori: Located in Harajuku. Gwen Stefani was inspired by fashion and her music at this very spot. Takeshita Dori has costumes for cos play and the strange fetishes that take place in Japan with anime and manga. Be careful about taking pictures. Have a dessert crepe. Shop around.
Oriental Bazaar: Souvenirs on the Omotesando part of Tokyo. Your best bet to get souvenirs is Asakusa Temple
Meiji Jingu Shrine: A long walk to the shrine, but a breather from the hustle and bustle of busy Takeshita Dori. On a Sunday, you can catch a glimpse of the Harajuku Girls posing for cameras.
Tokyo Dome City:  Check out the famous Tokyo Dome where thousands of Japanese fans sing, chant and dance. Japanese baseball is majorly loved! In fact, I think it is more fun to watch in Japan than in the states!
Studio Ghibli Museum: If you love Hayao Miyazaki Films, go check this museum out! It's a bit outside of Tokyo.
Kaiten Sushi: Conveyor Belt Sushi. Not always the highest grade of sushi, but such a fun experience. You can find them anywhere in Japan. They charge you by the plate.
Takashimaya: Famous Department Store in Japan. Located in Shinjuku.
Tokyu Hands: Novelty Store located inside Takashimaya. There is also a Shibuya location store as well.
Ito-Ya: Specializes in Washi and other calligraphy items
Tokyo Love Hotels: Sounds dodgy, but an experience. Themed rooms like the Madonna Inn. Read up on Love Hotels before you go. Go with your loved one 🙂
Kinokuniya: Great Book Store in Tokyo
Akihabara: A hub for mechanical parts, pieces, cell phones and technology
Tokyo Metropolitan Government Tower Building: If you did not go on the Hato Bus Tour, go check this building out. It is free to go to the top and you get a fantastic view of Tokyo.
Yebisu Garden Place: Beer Tasting in Tokyo!
Geisha Tour: Of course this will be geared towards tourists, but if you want to see real Geisha be ready to shell out thousands of dollars. So check out the Hato Bus Night Tour Version called the Mukojima Geisha Tour
Sumida River: There are boat tours. At night in the summer, you can drink and cruise around Tokyo.
Hair Cut???? If you are adventurous with your hair like I am when I travel, get a haircut in Japan. It might cost an arm and leg, but the experience is cool. They use a thinning scissor, to cut the heaviness out of your hair. Japanese people have thick hair. So if you are very daring and bold, go for it! The craziest thing I did one time was walk in with hair below my back and I walked out with a pixie cut! YIKES!!!!!!!!!!!
WANDER WANDER WANDER! Take photos and come back with great stories! I have so many more ideas, but just give me a comment and I will answer back! HAPPY TRAVELING!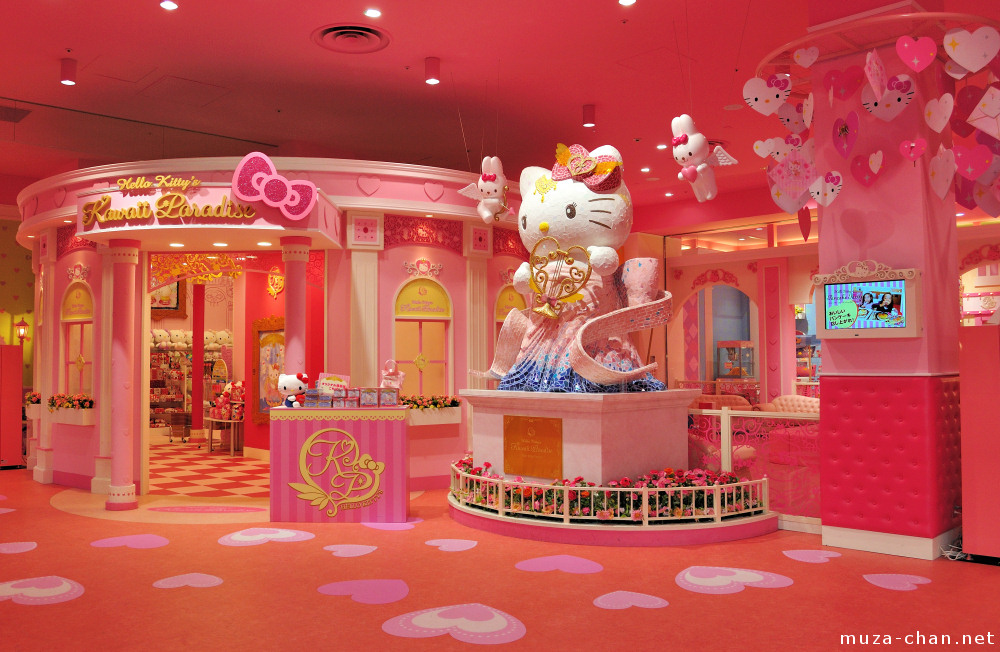 Source: http://muza-chan.net
LAST, BUT NOT LEAST!!!!!!!!!! BEFORE YOU TRAVEL TO JAPAN, YOU MUST PURCHASE A JAPAN RAIL PASS!!!!!!!!! It will save you hundreds of dollars! it is super easy to use and the cheapest way to travel around Japan and even Tokyo. You must purchase the Japan Rail Pass in your OWN COUNTRY before you travel to Japan! If not, you cannot purchase one in Japan! Check out the Japan Rail Lines Website. 
Featured writer: Lisa Hendricks